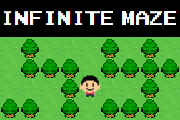 Retro 2D RPG style random maze game.
You are cast ashore on the maze island...
Struggle through the maze forest that changes the appearance many times!


2018.1.23:ver1.0.0 - Release!

How to play
- This is a retro 2D RPG style maze game. There is no buttle or mystery.
- The maze is created randomly every time you enter so that you can play many times.
- A "mashroom" is required to enter the maze forest. Mashrooms will come if the number of them become few every 10 minutes.
- You can get mashrooms also by watching "TV" once per day.
- The higher "Level" means the bigger maze forest. If you pick up "acorns" the number of next level, next level forest will appear.
- Acorns are falling in the forest. The more acorns are falling in the bigger forest.
- You can get acorns also by encounting a "Squirre" once per day. If you encounter the squirre every day continuously, the number of acorns you can get will increase ( maximum 15 ).
- Automatic saving, can be suspended any time
- World "LEVEL" ranking are available
- Quit by Android Back key